Most of you know already that my friend Lucy has her own sketch site and I use her sketches quite often. Did you know that she has asked me to be her Blog Coordinator???
Yes.... I am so pumped to be helping her out. Her sketches are amazing and her forum site rocks!! Make sure to head on over and check it out. She is such a sweetheart and her design team is so diverse. I love that!

I just posted my first challenge for her blog based on this layout:
I used my amazing May kit from Mon Ame Memories. This kit is so lovely. I combined it with Lucy's May 1st sketch:
Here is close up of the hand stitching I did on the layout. I posted a tutorial on Lucy's Blog.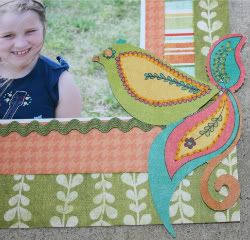 Challenge #3: Go and check out The Sketchworld Blog. Pick and sketch of Lucy's and use it as the foundation of your next layout. If you choose to hand stitch on it you will not only earn an extra ballot for my draw BUT... you will also earn a ballot for Lucy's Blog Draw too!!
Due: May 31st
**Look for my other Blog Announcement tomorrow**
Happy Scrapping!
~Tara~