We had such a fun filled Canada Day!!

Our little town puts on a great big celebration every year. The park right across from my old house is packed each year from people all over, celebrating Canada Day. There was music, games, crafts, heritage and museam activities, contests, food and lots of Canadian Spirit.
The local grocery store always makes this amazing Canadian Flag cake that gets driven down and passed out to all the people in the park. All the kids naturally flock to it when it arrives!

It wasn't the same this year without my friend Ally and Spencer.... we missed them.
Here are some pics that we took: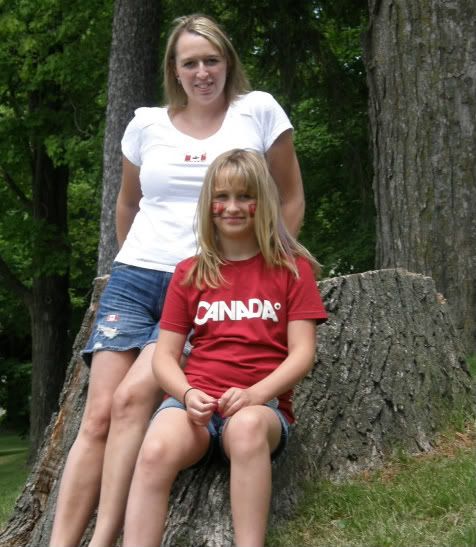 The three girls on the museum porch.....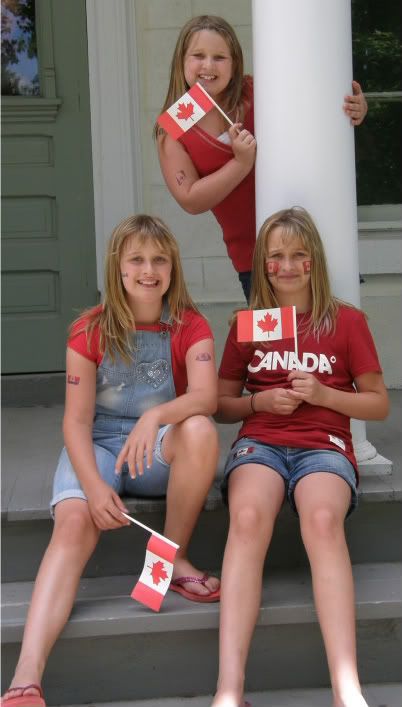 Paige.... looking all sweet and innocent.... don't believe it!
Here is a picture of DD and a lovely flower that grows at the museum:
Little Paige took this picture of DD and I chilling on what was left of a huge, old maple tree that fell down during our last storm:
Finally.... this is the photo I took for the weScrap Photo Challenge for July 1st. Be sure to check out the contest every day during the month of July for some great photo challenges and prizes along the way too!!
Hope everyone had an amazing Canada Day holiday!
Challenge: I would love to see your Canada Day or 4th of July pics. Just link them below or email me at thynner5@yahoo.ca to earn a ballot for this month's draw. I have extended the big Tattered Angels Prize pack for the month of July. I was stricken with pneumonia for a few long hard weeks and wasn't able to post many challenges. You receive a ballot for each challenge you complete this month. Don't forget that there are games and such as well..... lots of chances to be had.
~Tara~