One of things that I am slowly getting the hang of is Fussy Cutting. This simply means grabbing your scissors or exacto knife and cutting out some designs from your patterned paper.

Here is a sample I did recently for Art Freckles when I was their GDT. It features my daughter Emmy and her love of music. She now has an iPod. I promised her that if she could take good care of an MP3 player that I would invest in an iPod for her.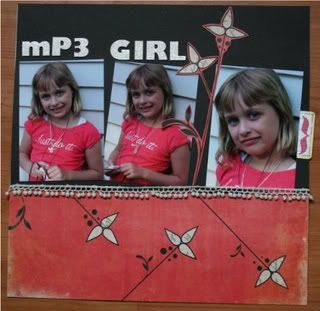 Challenge:
Do some fussy cutting for your next layout or card and email me at
thynner5@yahoo.ca
to earn a ballot for one of the many sponsored prizes!!
Due: June 15th

Happy Scrapping!
~Tara~