This is so much fun!! We are going to hop over to my friend Anne Marie Brenner's blog today. She is one of my sponsors this month!!
Scrap Sista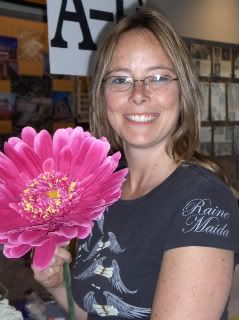 Here is what Anne Marie has to say:
"I just turned the big 40 this year arrrrrggg!!!!! No really it's not so bad. I will be married to a wonderful man for 15 years this July. I have the million-dollar family, one soon to be 14-year-old boy and a 12-year-old girl. My family is number 1 to me!!! I have one sister that I get to enjoy lots of laughs and scrapbooking fun with. Her and I get together quite often and scrap away or go away learning new ideas from different classes.

I live in a small town, St. Mary's and love it. It is beautiful and quiet until we get our machines going hehehe. Our family loves to fourwheel, snowmobile, dirt bike and any other outdoors things. We have a cottage up north about 5 hours away that we love to go to and enjoy family time. No phones, no t.v. just us….. and of course some of my scrappy supplies.
I am a SAHM so I do get to enjoy lots of time to scrap. It really relaxes me and I love to see the joy in my family's faces when they see my finished projects. I would like to thank Tara for asking me to be a part of her Blog Celebration. Congrats to you Tara!!!!!"
Anne Marie is a
Close to my Heart
girl. She has offered up a few Idea Books to a lucky blog reader!! If you have ever seen these books then you know how awesome they are. I have to admit that I buy these books each time they come out to see all the wonderful CTMH goodies and to be inspired by all the amazing ways to use stamps!! They have great products.
If you live anywhere near St Marys, Stratford or London then Anne Marie is the person to go to for Close to my Heart products!

Challenge:
Hop on over to
Anne Marie's blog
and see the challenge she has posted for my Blog Celebration. Email you creation when it's done at
thynner5@yahoo.ca
to earn a ballot for the celebration draw for one of the 8 sponsored prizes!!
**Anne Marie is offering a RAK to anyone who does the challenge as well. So, that makes two chances to win a prize!! Thanks Anne Marie!

Due: June 15th

Happy Scrapping!

~Tara~