I received some truly exciting and amazing news the other week and I have been dying to share it with you. My BFF from all the way back to Grade 5 is...................... expecting!! Yep, my friend Barb who surprised me by actually getting married last year, surprised me yet again by announcing she was pregnant again!!
This is a girl who swore she would never get married and never have anymore children. One was enough for her. Yeah right!!!! I knew that when she met the right guy that she would change her mind. Well, she did meet the right guy and she is so happy right now.

Her daughter, Ashley is a beautiful teenager and will probably be a great help to her. She will be lucky to have her around.

Here is a photo of my friend Barb and I that was taken after the twins came home from the hospital. If she can handle a day spent with me and a set of twins, then she is all set. It was natural. That mothering instinct just comes naturally and never goes away. She will be a great Mom.... again! Congrats Barb!! Having another baby when you're almost 40!! Love ya for it!!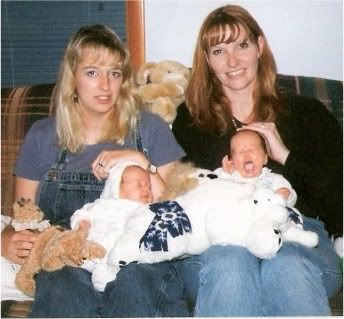 Challenge:
In honour of my friends pregnancy I would like to see you make a Congrats card. A nice and simple challenge. You can email it to me at
thynner5@yahoo.ca
or post a link below.
You will earn a ballot foe this months blog prize..... a collection of My Little Yellow Bicycle papers, transparencies, rubons, cardstock and a cool tabbed album!!

Due Date: July 31st
Draw Date: August 1st

Happy Scrapping!

~Tara~