I was having some problems with delayed posting and this post should have been up before. Sorry girls, but I will be blasting my missed posts out now.
Happy Mother's Day to all the wonderful mothers out there.
I have been blessed with three lovely, wonderful girls to love. I cherish them each and every day. I suffered alot of miscarriages and thought I would never be a Mom. Lo and behold, I beat the odds and I had two pregnancies make it to term. I truly believe that I was put on this earth to be a Mom. To teach my children to love and be loved.

Here is one of my favorite photos of me and my girls: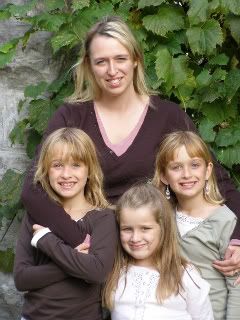 Challenge:
I would love to see a photo of either your children or your mother. You can post it on your blog or send it to me via email. Please let me know why they are special to you. You can provide a link below to your blog. You will earn one ballot for the draw.
BONUS: If you do a layout of your children or your mother, you will receive 3 extra ballots for the draw.

BTW..... I have a special announcement to make regarding the prizes this month. Stay tuned. I'll post it on Friday!

Due Date: May 31st
Draw Date: June 1st

Happy Scrapping!

~Tara~