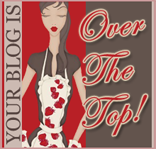 Apparently ....... my blog is..... Over the Top!!
So what I have to do is respond to the following phrases with just ONE word!! Should be interesting to say the least!
Where's your cell phone: Hip
Your hair: Shiny
Your mother: Loving
Your father: Loyal
Favorite Food: Bread
Dream last night: Amusing
Favorite drink: Juice
What room are you: Office
Hobby: Scrapbooking
Fear: Sharks
Where were you last night: Studio
Something that you aren't: Organized
Muffins: carrot
Wish list item: money
Where did you grow up: Everywhere
What are you wearing: Deoderant
Your pets: Dog
Friends: Crazy
Something you're not wearing: Tattoo
Favorite store: Lush
Favorite color: Blue
Last time you laughed: Today
Your best friend: Ally
Place you go to over and over: Kitchen :)
Person who emails you regularly: Ally
Favorite place to eat: Restaurant lol
That was fun!! Now I have to pass it on to some of my blogger friends!!
Now girls, you have to do the same thing I did!
Copy this into a new blog post and answer each phrase with one word!
Then tag some of YOUR scrappy friends!!
Thanks for stopping by!
Visit the blogs of these gals for some great inspiration!!
Challenge: Vistit my girlfriends blogs and leave a comment on each and leave a comment here as well to earn an easy ballot for the Sizzix draw!
Due: November 30th
~Tara~