You all must know by now how much I love to hand stitch on my layouts. I found some amazing rub on stitches in my stash that I got some time ago and thought I threw them out. I am now itching to do some fake stitching!! It will be what I do next.
Here is the last layout I did some hand stitching on. I used the wonderful circle stitch template from Bazzil on it. I made this layout for my friend Michelle as a surprise for her birthday. I still have to hand it over to her. lol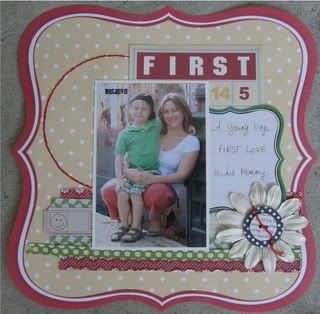 It showcases a wonderful photo I took of her and her youngest son, Will. We went for a fun filled day with Will and Paige at the Railway Museum in St Thomas. It wasn't open for the season yet and the wonderful men there opened it up for a private screening for us. It was an amazing day.
Challenge
: Use some stitching on your next layout or card. email it to me at
thynner5@yahoo.ca
to earn a ballot for this month's draw.
Due Date: July 31st
Draw Date: August 1st
Happy Scrapping!
~Tara~