Hey girls.... are you sick of spending so much money on embellishments to go with your pages and cards?? I know that with school starting I have to focus my money on other things right now.
So.. what can we do??? Why... we make our own embellishments of course!!
I made the following triangle banner out of denim from an old skirt that Paige used to wear. I grabbed my sewing needle and after stabbing myself a few times.... I had made the following handmade embellishment:
Here is how I did it:
Supply List:
Fabric (I used denim from an old skirt of Paige's that no longer fit)
Batting
Needle, thread or sewing machine
Scissors
Small Prima Flowers or other small embellishment of your choice
1. Make a triangle shape or print one off of the internet. There are some great templates available. You can even google triangle clipart images. I just made one freehand at the aproximate size I wanted. Then I traced it on the backside of the fabric. I wanted 4 triangles therefore I traced 8 onto my fabric. Cut your shapes out.
TIP:
If you are planning to make a freehand triangle then make sure you trace 4 then flip your triangle shape over and trace 4 more. You need to do this to ensure your pieces will line up perfectly. I also labeled mine "A" and "B" to be sure. If you don't do this this just trim around the edges of your triangles to make them even.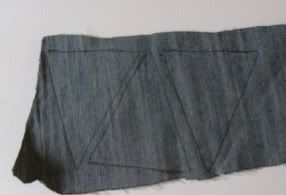 2. Do the same with your batting. Make them just slightly smaller to fit inside your other triangle. The batting just adds dimension to your triangle banner. I love things to be lumpy, bumpy and layered on my pages.
3. Layer your denim and batting pieces together. I used a pin to keep it in place. It will shift and move as you sew otherwise. I chose to sew by hand as I still don'tknow how to work my sewing machine yet. After stabbing myself yesterday I think I may take a course on how to use my machine. :)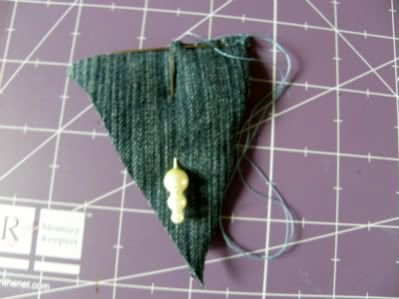 I actually tried to stamp some cute little sayings onto my tiangle but they were so small that it just looked like black ink smudges. So....
TIP:
If you ever mess up in scrapbooking just try and cover it up with something else. I had some Prima Fairytale Flowers that happened to look exactly like the flowers in my photos of Paige.
You can see my final layout tomorrow!
I also made a chipboard circle embellishment to place on this page. Here is what I did:
Supplies: Chipboard (The back of a large notepad)
Ranger Crackle Paint in Faded Denim
SEI Chalk in in Denim
Scissors or craft knife
1.I traced a circle shape onto my thin chipboard and cut it out with my fine tip scissors.
2. I covered in generously with the Ranger Crackle Paint. Make sure you glob it on and the thicker it is the more crackle detail you will see. Allow it to dry.
3. I rubbed the chalk ink over it to show the crackle details. and added it to my page.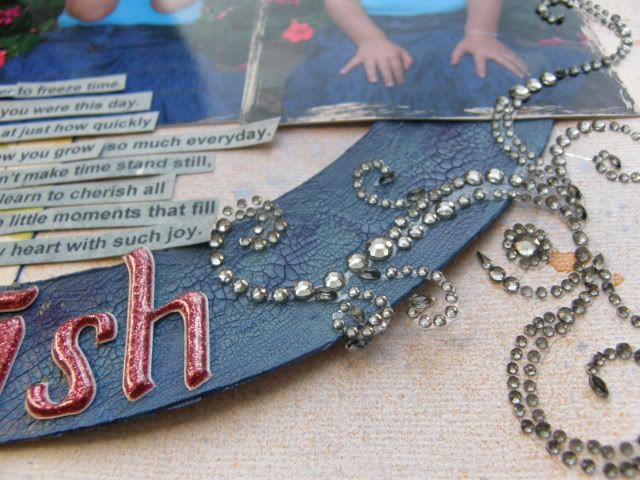 Challenge #5:
I would like to see you make your own embellishment and add it to your page or card. You can email your creation to me at thynner5@yahoo.ca or link it below for one of the great prizes and RAK's up for grabs this month. Check out the other challenges for other chances to win this month.
Bonus:
Complete this challenge for a chance to win your own Ranger Tim Holtz Crackle paint.
Due Date:
August 31st
Draw Date:
Sept. 1st
Prizes:
1. Fanciful Frames kit from weScrap
2. Tattered Angels Glimmer Mist (2 bottles) and Glimmer Screen
Happy Scrapping!
~Tara~